Welcome to the Doll and Bear Hospital. I can cure a variety of common ailments in dolls, bears and stuffed toys. All makes of Vinyl Dolls are welcome.
Please look at the Medical page to see what I can do for your treasured friend, and the Patients page to see before and after pictures.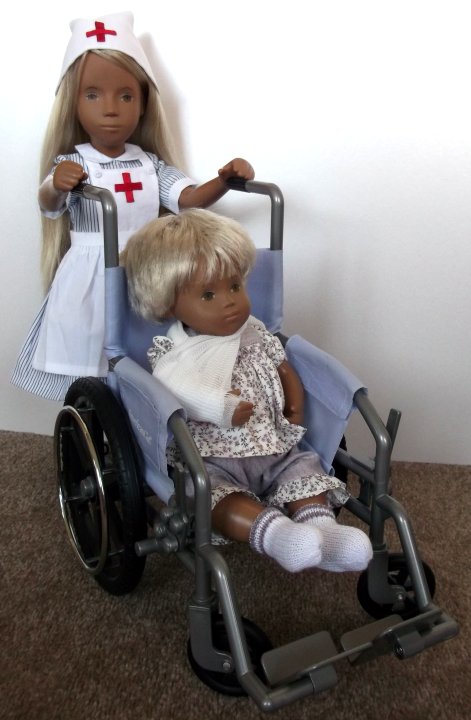 [outfits by Ruth@ruthsdolls.uk]

Email Lisa giving a brief description of the problem, with photo, for estimate of cost, time-scale etc. Lisa@dollandbearhospital.uk
All postage and insurance costs are the responsibility of the owner. Please make sure dolls and bears are sent in packaging suitable for returning them to you once repaired. A Sasha doll will require a box at least 16" long. A Sarah/ Hannah/ American Girl will require a box at least 18" long. If dolls are not sent in suitable packaging there will be an additional charge for this.
Please note that due to import/export technicalities we are only able to accept patients from within the UK and European Union. I will only return dolls and bears using Special/ Recorded Delivery, according to value.
What I can do for your doll/ bear
Full head rerooting, plugs: from full head reroots to small quantities of plugs
Restringing: Sasha dolls from all three productions. Also, Gotz and Sylvia Natterer dolls.
Wigging/rewigging: for falling hair dolls or those with bad haircuts. Bad odours removal: I'll do my best.
Stain removal: eg biro, felt pen, colour run from clothing etc.
Full face repaint, touch-up: full face repaints, or just small areas, eyes and mouths
Caved-in chests: heads or limbs that won't sit comfortably in their sockets. Hair conditioning: wash, condition, detangle, setting in original style. Clothing repairs to garments.
Ripped seams/ stuffing replacement for soft toys and bears.
What I can't do for your doll/ bear
Remove corrosion marks, completely eliminate odours, mend chewed limbs, cure hair frizz

Please discuss Payment with Lisa. Lisa@dollandbearhospital.uk